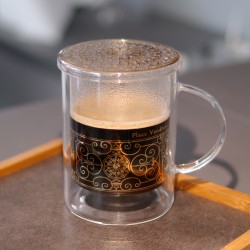 Romeo and Juliet is a series composed of peotic mugs, decorated with real Parisian balcony located in different areas of the romantic city.
The gold metal print is timeless durable thank's to its application between the glass walls, it's a Silodesign™ innovation.
This insulated mug is sold with its lid, decorated with Notre Dame de Paris main rose-window.
This mug will be your best friend while reading a nice book during the cold winter…