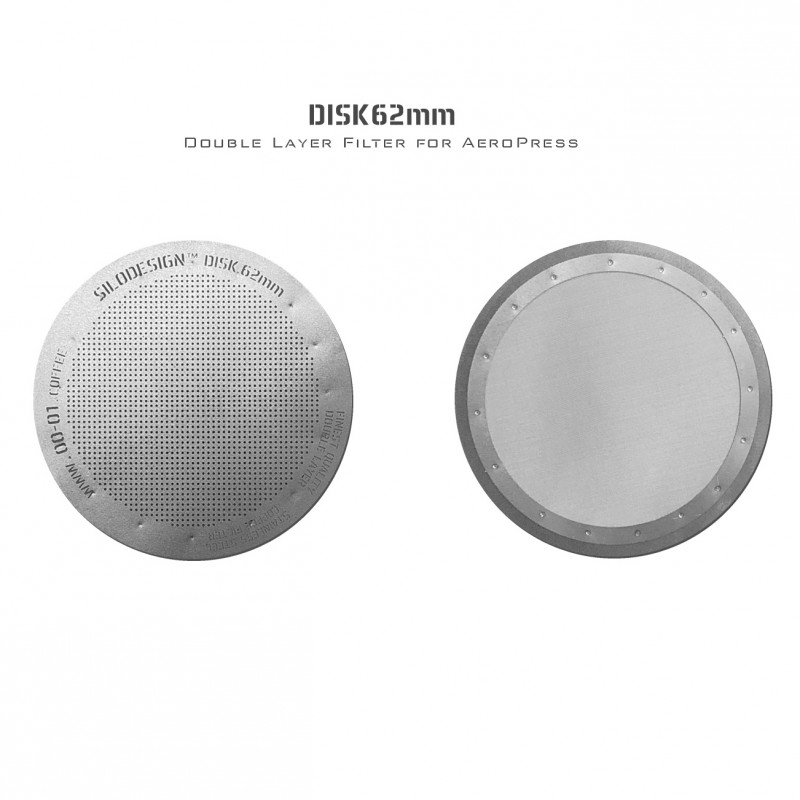  
Sustainable DISK 62mm (For AeroPress)
AeroPress™ double layer stainless steel filter.
The DISK62mm  is the first double layer metal filter  designed for the AeroPress™  
Its design is unique, 100% stainless steel & double layer : 
- side "A" : a metal disk perforated with 0,4mm holes, providing the strength and longevity. The 4/10mm thickness was designed to get the best tightness to be perfectly leak proof while locked inside the AeroPress™ . It also rise up the pressure, to optimize the extraction.
- side "B" : composed of a micrometric great stainless steel mesh surrounded by a circular metal ring. The very thin mesh doesn't allow any particles to pass through, your cup will be very clean.  The inner ring facilitates the centering of the filter on the AeroPress™.
DISK62mm lets pass the natural oils present inside the coffee beans, to preserve all the original aromatics present in the specialty coffee beans. (Unlike a regular paper filter that stops them and alterate the natural coffee flavour).
This DISK62mm is the best metal filter to make a coffee full of aromatic flavours, with a great body. It makes a very clean taste !
Ecologic : it is life time washable and reusable: no necessary to buy disposable paper filters anymore.
Tip : Our advice is to rinse the filter with hot water after each use.